See on Scoop.it – Micro generation – Energy & Power systems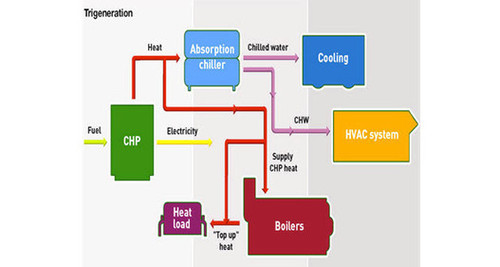 A Houston power company claims to have developed a "house of the future" that can potentially generate more energy than it uses.
MCOGEN Power Generation Systems Solutions says it has implemented the first commercial micro-trigeneration power supply in the home of a Texas family. Using methods employed in larger power plants, the company boasts the most efficient home energy system ever seen. In some cases, it says, a house could actually produce enough energy to sell back to its parent utility.
The secret lies with a process increasingly used by power plants called trigeneration. Traditional power generation involves burning fuel sources – petroleum, coal, nuclear, etc. – and using the resulting heat energy to spin turbines, creating power. More than half of the potential energy in the original fuel source is lost as waste heat and discarded through vents or cooling towers.
A process called Cogeneration improves the take somewhat. Instead of venting excess heat, cogeneration power plants capture and use it to make more energy via steam power processes. This means the same amount of energy can be produced with less initial fuel.
See on bakken.com