See on Scoop.it – Heat energy recovery technology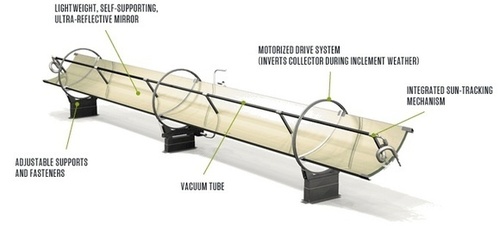 Canada's Rackam has partnered with TÜV Rheinland to develop a test bench for testing performance and efficiency of solar thermal collectors.
The facility comprises a pumping circuit equipped with an electric heating element as well as measuring and control instruments, which enable the circulation of mineral oil-based high temperature heat transfer fluids up to 240°C through various devices such as solar collectors, but also thermal storage banks or small steam turbine generators.
Rackam develops solar thermal technologies, based on parabolic trough reflectors, designed to produce medium-temperature heat. Its flagship device, the Icarus Heat 10, soon to be improved to S20, is a parabolic trough concentrator suitable to be mounted on roof. Its intended to be used to produce process heat.
– See more at: http://www.csp-world.com/news/20140402/001337/rackam-and-t-v-rheinland-partner-develop-solar-thermal-collector-test-bench#sthash.Dx5Kbdkt.dpufCSP World
See on www.csp-world.com