See on Scoop.it – Micro generation – Energy & Power systems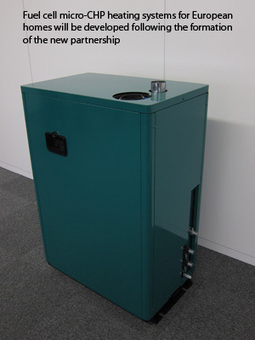 BDR Thermea has announced today a partnership with Toshiba Fuel Cell Power Systems Corporation for the exclusive co-development and marketing of fuel cell micro-CHP heating systems for European homes.
Due to enter into full production in 2015, the new series of fuel cell micro-CHP heating solutions will not only deliver energy savings and environmental benefits for end users, but will also feature a more affordable price tag thanks to the increased production volumes and a modular design.
The partnership brings two market leaders together. BDR Thermea is regarded as a leader in micro-CHP technology in Europe, and has an extensive sales and service network at its disposal. The company has led the European development of fuel cells and CHP solutions for residential heating applications.. Meanwhile, Toshiba Fuel Cell Power Systems Corporation is a global market leader in the development, production and marketing of PEM fuel cell systems. The companies have each delivered some 35,000 appliances into their respective markets.
Commenting on the new partnership, Rob van Banning, CEO of BDR Thermea, said: "This is a mutually beneficial partnership, joining together two market leaders in CHP technology to help grow market share and influence take-up of CHP technology on a European scale.
See on fuelcellsworks.com