See on Scoop.it – Turbines Design & Power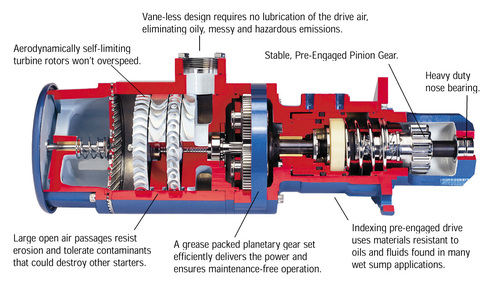 DAYTON, OH, September 23, 2013 — TDI announces the introduction of a powerful, new, inertia-engaged turbine air starter designed to improve the reliability of mid size engines (up to 4,882 CID/80 Liters) on marine vessels, mine haul trucks and critical applications like emergency generator sets and fire pumps. The signature characteristic of the vaneless, TurboTwin T50-I is the 100% starting performance it delivers because of the inertia engagement.
"With inertia-engaged air starters there is never an abutment causing an abandoned start attempt, meaning the design of the air starter assures pinion engagement every time. This translates to 100% starting reliability," states Dave Rawlins, TDI Senior Product Manager. "We have tens of thousands of inertia-engaged starters in the field. The new Model T50-I completes a mid-range product offering with additional performance in a smaller package than either the Model T100-F or the original 52 Series starters."
http://www.tdi-turbotwin.com/t50.php
The T50-I was built in response to marine and mining markets which demand the extra reliability of an inertia starter without the need for engagement controls. T50-I fits on mid-sized engines like the Caterpillar 3400, 3500 and C-175; Cummins KTA 38 and 50, and MTU/Detroit Diesel 2000 and 4000 Series. The simple design allows for one part number to cover a wide range of engines and applications commonly found in many large fleets.
See on www.macreportmedia.com